Whalebone Biography
Whalebone is an acoustic guitar duo comprising Char Watson & Steve Downs. For 17 years they have been writing, composing and recording instrumental music inspired by nature, folklore and their surroundings from their little rural studio in a quiet corner of Shropshire, UK. Their music features steel string guitars, with nylon string, tenor, baritone, bouzouki & mandolin also making an appearance on occasion. 2020 saw the duo's 800th live performance since forming and the release of their album Totally Plucked which gained BBC Radio 3 airplay. 
Since 2021 the guitarists have focused on recording, creating  new ambient music as The Bare Bones and Earthbone in addition to continuing to release music as Whalebone, achieving over 12 million streams worldwide on Spotify alone. Music recorded over this period has been brought together in two albums, released late in 2022 -  Whalebone's 'What They Do' and the self titled 'The Bare Bones'.
"Accomplished musicians with great chemistry and sensitivity to each other. Poignantly beautiful." Taylor Guitars' Wood and Steel magazine. 
Their music has its roots in the Celtic Folk music of the British Isles, interwoven with strands of rock and Americana, focusing on strong melodies and harmony, with the delicate interplay between two guitars at the heart of their sound. Alongside original compositions, Char & Steve have also arranged & recorded many classic rock tunes as instrumentals using the two acoustic guitar format – see the Classic Rock Acoustic Instrumental Covers Playlist on Spotify and Apple Music.
"It's no mean feat for an all-instrumental album to hold even the most sympathetic ear for the best part of an hour, but Steve Downs & Char Watson succeed with tunes & ideas to spare" – the UK's Acoustic Magazine
The early part of 2019 saw collaborations with poets Jean Atkin on the Arts Council funded project 'Understories' and Kate Innes with 'Flocks of Words'. 2018 saw the group shortlisted for Musical Performance of the Year at the National Rural Touring Awards, & past accolades include runner up FATEA Instrumental album of the year, CKUA Top 10 album of the year and Penguin Eggs critics choice for top 10 albums of 2013 & 2016. 
"Expressively beautiful..." Folkwords.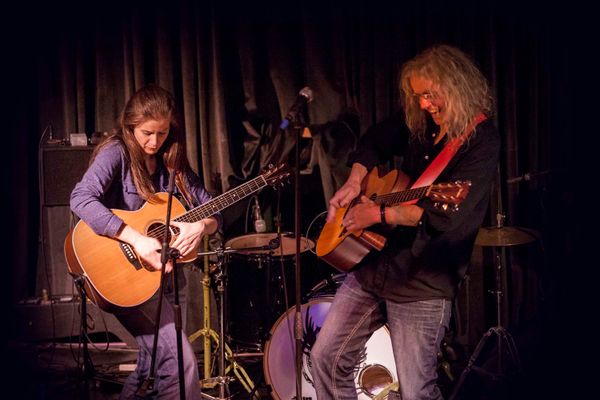 "..instrumental music of high sophistication…skilled musicians and imaginative arrangers" (Living Tradition)
"..can be enjoyed by non folkies who can quite easily pass it off as classic rock and there are enough folk elements to keep the best finger in the ear traditionalist happy too" (Folkall)
4 Stars - 'Special' 'Engaging and hugely enjoyable listen... their tune selection, and execution of the same, is faultless, an ideal balance between light and shade' (David Burke - R2 Rock 'n' Reel Magazine)
'swing their tunes beautifully... wonderfully real...' (Caroline John - Taplas Magazine)
'Brilliantly conceived and executed. It's amazing how the lack of a vocal and alternative arrangement can make the familiar tangential, reflective, requiring attention.' (FATEA Magazine)